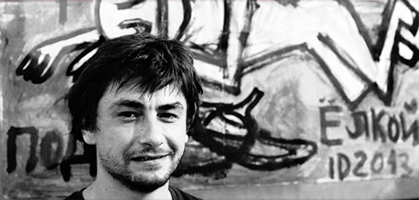 Dubyaga Ivan Yu. was born in Krasnodar. In 1983, he moved to Chisinau with his family. In 1995, he began to study music, literature and drawing. In 1997, he engaged in a primitive sound recording, sound art, playing concerts as part of a group formed together with his friends from Chisinau.
In 1999, he entered Krasnodar State University of Culture and Arts and its Faculty of Museology, where he began to draw more often and more consciously. But he did not work in his major - he became known in Krasnodar as an artist with his own recognizable style.
From 2006 to the present, he has been living in a cottage village in the suburb of Krasnodar, practices with in electronic noise and experimental music and its combinations with video series. Ivan is interested in astrophysics. The artist is a member of a number of group projects.